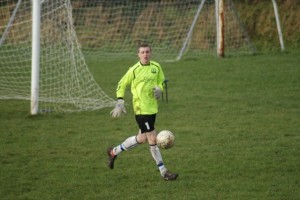 JMU Journalism student Rory Kelly became a Twitter trending topic as he searches for a new club after narrowly missing out on a professional football contract.
Rory had made the final 11 players of Samsung's nationwide competition 'Win a pro contract' in which over 5,000 hopefuls applied for the opportunity of a year-long contract at Swindon Town and Leyton Orient.
However, goalkeeper Rory did not make the final cut after the contenders lost 3-2 against a Leyton Orient XI in the final at the Matchroom Stadium.
The trending topic #findroryaclub surfaced after Rory's final match and became so popular that it was at one point the third most tweeted trend in Ireland, with backing from Ipswich player Cormac Burke, Burnley and Northern Ireland defender Daniel Lafferty and Nottingham Forest midfielder Stephen McLaughlin.
Rory has played professional football in Northern Ireland where he signed for Derry City in 2010 and spent two seasons before joining Irish First Division team Finn Harps in 2012.
Rory told JMU Journalism about his time in the competition: "To be honest I think having played pro at home for the guts of three years helped me. I think I picked up a lot of good habits and simple things that people may not necessarily show at trials, like being loud on the pitch.
"The final match was something I had been waiting on. I'd been away when I was 16 on trial, and with things not working out, I was hoping to get another chance." The competition, which will be shown on Sky Sports, saw more than 5,000 applicants fighting for the prize and Rory felt honoured to be a part of the final group.
He said: "It was a good experience. Obviously it gave me a chance to chase my dream, and after three quiet years in terms of football, gave me the opportunity to get my name out there.
Rory has vowed to continue to put his focus into finding a club as well as his university studies and has even promised he will give his first week's wages to charity.
"Not winning the contract will let me focus on completing my degree this year but I still want to try and keep at the football too. It's just a matter of getting to April or May, see where I stand and hopefully attract a bit of interest from clubs at home or even in England.
"Although I'm still gutted at not winning the contract, I think what's meant for me will come to me. I'm only joining the dots at the minute."