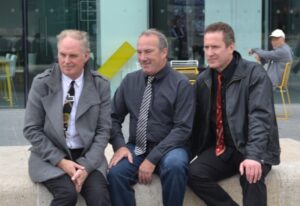 Veteran 'synth pop' group, Orchestral Manoeuvres in the Dark, have a selection of iconic objects displayed at the Museum of Liverpool to celebrate two upcoming gigs at the venue.
The one-of-a-kind artefacts from throughout the Liverpool band's career will be displayed in the museum entrance, including 'Winston' – the four-track tape recorder credited as a priceless contributor to OMD's development in the 1980s.
Keyboard player Paul Humphreys told JMU Journalism: "Winston was an important member of our band. It's great that he is actually still working and we are going to be using him on stage."
The exhibition is a precursor to the band performing two intimate shows in the atrium section of the museum on November 1st and 2nd, making them the first major music act ever to perform live at the waterfront venue.
What began as an idea for an instillation at the 'Dazzle Ship' in the dry dock at the front of the museum snowballed into two gigs, a collection of films and an exhibition for the band, who had a string of hits including 'Enola Gay' and 'If You Leave'.
Paul Gallagher, Acting Senior Curator of Urban History, said: "OMD have a special place in Liverpool's cultural history, and we wanted to put objects on display that would reflect the band's journey and development.
"The objects we've chosen helped OMD create their unique sound, and also reveal some of the early influences and catalysts behind the band's success."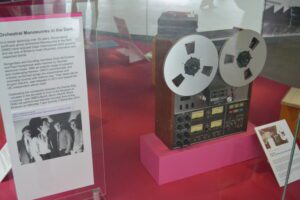 OMD's set will include greatest hits, tracks from the group's 1983 Dazzle Ships album and one song which has never been performed live, with all proceeds going back into supporting National Museums Liverpool.
Andy McCluskey, OMD's lead singer and trustee of National Museums Liverpool, told JMU Journalism: "We were inspired by the Walker Art Gallery as kids and teenagers. They are incredible museums and it's a wonderful service to the community.
"We would like to promote the museums as well as to raise money for them. We can't make up the shortfall in the grand scale, but every single penny that we are making from this concert is going back to the museum."
Humphreys said: "I live in London so it's always lovely to come back and it's always lovely to do something for Liverpool because Liverpool has given us a lot over the years and it still feels like coming back home."