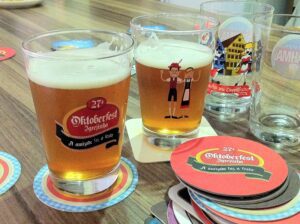 A five-day celebration of all things German is hitting Liverpool next week where punters will be able to get their fix of beer steins, schnitzels and bratwurst sausages.
Around 6,000 party goers are expected to attend the event, which starts on October 14th at the Exchange Flags, bringing a taste of German hospitality right to the centre of Liverpool.
Oktoberfest is a 200-year celebration that began in Munich to celebrate the gathering of the harvest and has since gone global.
The event is free to attend when it opens on Wednesday. However the Thursday, Friday and Sunday require a £5 entry fee. Those going on the Saturday face a £10 entry fee.  A VIP package is also available which includes beer, food and seat reservations which will set you back between £34 and £44 per person.
Activities will include exclusive beer tasting along with lots of dancing and sing-alongs to shclager music. Guests will be sat under a blue and white coloured tent whilst being served the delicacies of Germany by waiters and waitresses dressed head to toe in the traditional dirndl and lederhosen dress.
Those who will be attending the Sunday event will have the opportunity to experience Bavarian family culture with a traditional lunch.
Organisers have even brewed their own Oktoberfest Beer, transported all the way from Bavaria.