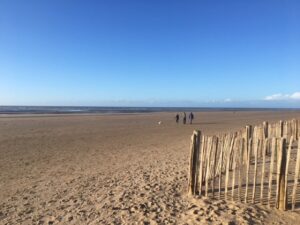 Palm oil is once again washing up on the shores of Merseyside, most recently at Formby and Southport beaches.
The substance is still appearing after winter storms disturbed 26-year-old shipwreck, Kimya, off the coast of North Wales.
Whilst the oil is mostly harmless to humans, it is highly toxic to the canine population; when ingested by dogs it is potentially fatal and at the very least causes extreme sickness.
The deposits started appearing on Formby's sands in late November, with over six tonnes removed from the beach in the space of a week.
YouTube: Emily Kinsella
Local vets have said they have recently dealt with a number of incidents as a result of dogs ingesting the substance. They advise to be vigilant whilst exercising your dogs and stick to sand dunes or keep the dogs on their leads.
The shipwreck that is the source of the oil deposits is the Kimya – a Maltese vessel that capsized off the coast of Holyhead 26 years ago during a storm.
The ship had a mixture of chemicals and vegetable oils on board, but the palm oil has only recently been dislodged due to Storm Aileen, Storm Brian and Hurricane Ophelia.
A spokesperson for the Formby National trust told JMU Journalism: "We go out and collect everything we can, but obviously there is a very small residual amount that we just can't see."
Gordon Wright a spokesman for Sefton Council Coast and Countryside, told JMU Journalism: "We have had signage out since November warning the public and we've been removing the chunks of oil.
"We started dealing with the incident in November and the worst is now over."