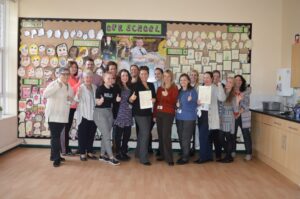 A local school has overcome its turbulent past and making rapid improvements thanks to the help of a new head teacher.
Our Lady and St Swithin's Catholic Primary School was put into special measures by Ofsted in 2013, and has since had seven head teachers.
The school's current headmistress, Emma Hartley, was appointed in March this year, officially spending five weeks in her new post before Ofsted did their annual inspection.
Previously, Mrs Hartley had worked at St Gregory's Catholic Primary School in Netherley for 12 years, six of which she spent as a Deputy Head Teacher. When the job opportunity arose in Croxteth, Mrs Hartley was quick to apply. She told JMU Journalism: "It was such a lovely school and I could really see potential, the children were so lovely and they just sold the school to me."
As one of the youngest head teachers in Liverpool, aged 35, Mrs Hartley didn't expect to be appointed to the role as the school was "such a challenge to take on". Many parents fought for the school to remain open with signed petitions when it came under threat of closure four years ago.
YouTube: Becky Jones
Since appointing the current head, Our Lady and St Swithin's has seen many positive changes. Alongside her husband, Mrs Hartley worked tirelessly over the summer holidays to transform the building by painting work spaces and sorting through bookshelves- where she found folders dated back to 1991.
Our Lady and St Swithin's, where Wayne Rooney attended as a child, has recently re-launched its breakfast and after-school clubs. Both initiatives proved a great asset, with numbers rising from seven to 60 children since the new programme was re-introduced. Children are given the opportunity to get involved with a range of academic and creative activities, including forest club, homework club, dance and rounders.
Ofsted's 2017 report stated: "There is a commitment throughout the staff to support the social and emotional development of pupils so they become successful learners of the future. The breakfast club has grown exponentially in a short space of time and there are a wide range of activities on offer to encourage pupils to attend."
The school trusts that its rocky past has not affected the children's learning or development, with Mrs  Hartley giving credit to their staff, past and present.
Ofsted representatives visited the school in October and were full of praise for the improvements that have been made. The school attained an overall 'good' rating – a welcome result for staff, students and parents.
Speaking to JMU Journalism, Mrs Hartley said: "The new governing body has had a massive impact on the school and the revitalisation of the staff has been a huge benefit. We've had an unbelievable Ofsted report, and I'm so happy that I've found the perfect school."