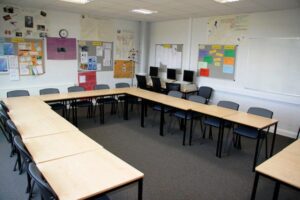 Plans for two-year-olds to attend school have been branded a "disgrace" by people in Liverpool.
According to Ofsted, the official schools inspection body, children should be in school from the age of two to eradicate effects of poverty on their performance.
The organisation has called for a network of academies catering for two to 18-year-olds to be set up around the country, so that children from less privileged backgrounds would be ready to start school at the age of five.
Baroness Morgan, who chairs the education standards watchdog, called it "the next big, bold, brave move" in the education agenda.
She added: "Poor under-fives are still 19 months behind their affluent peers when they start school at five."
However the idea was given a thumbs-down in Merseyside, where the proposal was dismissed as traumatic and distressing.
Jane Moore, head of School Teacher Education at Liverpool Hope University, said: "It's completely ludicrous as an idea. It doesn't follow any evidence we have from the best performing countries like Finland where formal education starts later than here."
Danielle Clarke-Walsh, Deputy Nursery Manager of The Little Explores Nursery in Liverpool, said: "It's a disgrace. Two-year-olds should be learning through play, not sitting at desks in a classroom. They need to learn personal and social skills."
Clarke-Walsh believes that some parents might like the idea if they are working full time, but it will heavily affect nurseries across Liverpool if parents send their children to school so young.
She added: "In my opinion, a school setting is far too industrial, toddlers need some freedom."
Geraldine O'Neil, a mother from Liverpool said: "Categorically, no. You can't educate two-year-olds at school. If it was my child I would approach the European Union of Human Rights because it's just wrong."
Meanwhile, Sophie Ashton, a student in Liverpool, agreed and said: "They're too young; they have only just learned how to speak."
Additional reporting by Hazel Miller