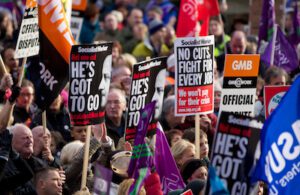 New legislation aimed at curbing union powers has been has been labelled an assault on workers' rights by one local official.
The proposed Trade Union Bill will go for its third reading in the House of Parliament this Tuesday. It has also previously been dubbed an "attack on civil liberties" by human rights organisations.
Jay McKenna is the regional Campaigns and Policy Officer for the Liverpool-based Trade Unions Congress North West. He told JMU Journalism: "This isn't about industrial strife, this isn't about strikes. What the government wants to do, in my mind, is quell dissent; to stop those who speak out against their cuts to services."
The government claims that the bill will introduce fundamental reforms to modernise trade union law. It states the aim of the bill is to "improve transparency and oversight of trade unions and give employers greater chance to prepare for industrial action and put in place contingency plans".
However, concerns over the bill have escalated recently after Liberty, the British Institute of Human Rights (BIHR) and Amnesty International UK published a joint statement condemning the proposals. It stated: "By placing more legal hurdles in the way of unions organising strike action, the Trade Union Bill will undermine ordinary people's ability to organise together to protect their jobs, livelihoods and the quality of their working lives."
It will introduce constraints on those who picket outside the workplace. Unions will be required to appoint picket supervisors who must wear armbands and carry letters of authorisation, the absence of which could lead to legal action. Another feature of the bill is that employers can bring in agency workers to replace those taking industrial action.
The TUC gathered 2,500 people at Westminster last week to lobby MPs before the next reading of the bill. Mr McKenna believes the bill is "criminalising" those who take industrial action as a last resort.
He added: "You must jump through all these hoops, clear all these hurdles to take strike action and then if you do it they will still bring agency workers in. It's very questionable.
"Trade Unions are seen as maybe the enemy within government. But there are other organisations that speak out against government policy… are they going to see threats to how they operate?"
If the bill is passed this report stage it will then be moved for discussion in the House of Lords.