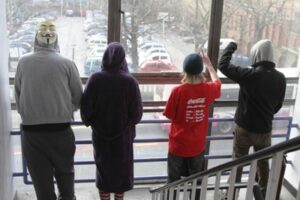 Squatters have vowed to continue their Occupy Liverpool protest indefinitely after taking over an empty office block in the city centre.
The squatters moved in to the Tinlings Building in Crosshall Street on Sunday and were immediately involved in a tense stand-off with police. Three arrests were made for alleged minor drugs offences, but all were later released without charge.
Around 20 people are involved in the occupation, and one protester, 17-year-old Bo McBain, told JMU Journalism: "I was one of the people who helped set up the camp in Liverpool a week after Occupy Wall Street started and I'm willing to spend the rest of my life being part of Occupy. We refuse to leave.
"We have put on a Section Six notice, which relates to squatters' rights, and means everything we are doing here is completely legal."
A spokesman for Liverpool City Council said the police are in contact with the occupiers and are also liasing with the owners of the building
The protesters set up camp in Liverpool in November at the Lime Street end of William Brown Street, part of Liverpool's Cultural Quarter. They moved on due to adverse weather conditions, and took over the five-storey building, in the shadow of the Radio City tower, at the weekend.
Another protester, who refused to be identified and insisting he is known as 'Mad Rox', said: "The position humanity has been put in, with 1% of the population of the earth owning 46% of the world's wealth and not distributing it equally and fairly just to keep hold of the wealth for themselves, is completely wrong.
"We are trying to raise awareness in the community for a self-efficient economy which is basically living together as one big community to supply for that community rather than working for one big corporation or supply for yourself. That's the awareness we are trying to raise, plus the awareness how corrupt our government is."
The Occupy movement is an international protest which is primarily directed against economic and social inequality. The social networking portal Meetup states there are just under 3,000 Occupy camps globally, and the Guardian has attempted to map the worldwide protests.
Although the Tinlings Building is without working toilets, the protesters are hoping the camp will be open for the public to visit early next week, and a major clean-up operation of the site is currently in full swing to try and make it safe and habitable.
McBain added there are no leaders in the camp and all decisions are made collectively. He said: "We have meetings and we vote on who is in charge of that meeting – nobody is higher than anybody else. We have a treasurer and other different groups in the camp. We all work together."