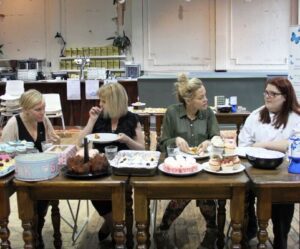 The O-Very Cake Bake competition to raise awareness about ovarian cancer will return to Liverpool next month along with some celebrity judges.
The competition will take place on the 22nd of March in Leaf on Water Street, which is situated in West Africa House and the judging panel will be made up of BBC 3 presenter Cherry Healey and Wirral-born Masterchef: The Professional's winner, Claire Lara.
Cherry Healey said: "I am very excited to return to the North West to guest judge the O-Very Cake Bake and support the campaign.
"Genes causing ovarian cancer can be passed down through families so the more we learn to talk about it the more cases we can diagnose early and hopefully treat. This is why I am especially honoured to meet some young women and talk to them about the symptoms of ovarian cancer."
The event is organised by North West Cancer Research and the money raised will go towards funding world-class research at University of Liverpool that uses fruit flies to investigate the role of proteins in the spread of ovarian cancer.
Dubbed the 'silent killer', ovarian cancer affects almost 7,000 and kills almost 4,400 women every year.
Anne Jackson, Chief Executive of NWCR said: "Ovarian cancer is an aggressive disease that is difficult to detect before it has spread to other parts of the body. This makes treatment very difficult, and on average, less than a third of patients survive more than five years after diagnosis. Our goal is to understand the cause and mechanisms of this invasive cancer.
"Although figures are improving in England and deaths from ovarian cancer have fallen by a fifth in a decade there is still work to be done. Detecting the illness at an early stage is crucial and by working with Cherry we hope to raise awareness of the symptoms and enable women to know the warning signs."
If you are interested in taking part in the competition, or wish to know more about the charity you can visit: www.nwcr.org