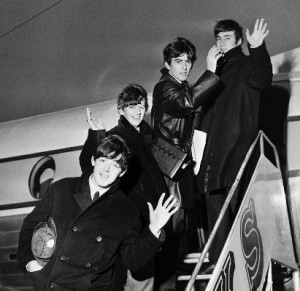 New York is gearing-up to honour The Beatles ahead of the 50th anniversary of the Fab Four's landmark visit to the Big Apple.
John, Paul, Ringo and George took their first flight to the US on 7th February 1964, launching 'Beatlemania' that would take America by storm in the coming years.
JFK airport, where The Beatles made their famous landing, will host an event to unveil a Beatles Historical Airport Marker, before a live tribute band, The Beatles Fest, play some classic hit songs.
Spencer Leigh, author of 'The Beatles in America' told JMU Journalism: "It was one of the most important cultural events of the last century."
The four Liverpudlians had already secured the number one with 'I Wanna Hold Your Hand' by the time they set off for the States. At JFK they were greeted by 3,000 hysterical, screaming fans and two days later they appeared on The Ed Sullivan show, breaking broadcast records with an estimated 73 million viewers.
Leigh added: "I think that show was curial to their success. So many people saw it."
As well as the events at JFK, Paul McCartney and Ringo Starr have recorded a TV special that will air on the 9th February to mark the anniversary of The Ed Sullivan Show.
Filmed at the Los Angeles Convention Centre, the duo performed the classics 'With A Little Help from My Friends' and 'Hey Jude'.  The night also included performance from acts such as Katy Perry, Maroon 5 and Stevie Wonder.
Speaking about the level of fame The Beatles are now regarded with, Leigh said:  "You can go anywhere in the world and mention The Beatles and people will know who they are."