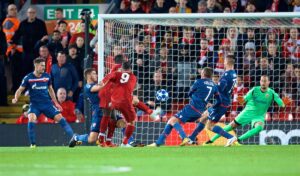 Getting tickets for a UEFA Champions League tie is hard enough as it is, but it doesn't get much better than free seats with one of the best views in the house.
Fellow student Tom Cameron and I were lucky enough to get press passes for Liverpool's 4-0 victory over Red Star Belgrade last night, on behalf of JMU Journalism.
Usually, as a die-hard Manchester United fan, I would be on edge about travelling to Anfield, but thankfully there was a job to get on with. This was my first experience of reporting at a live football match, and rivalries were put to the back of my mind.
After being handed our coveted passes, and having a brief nosey in the media canteen, we made our way up to the Main Stand to find our seats and get ready for the match.
Two goals by Mohamed Salah plus one apiece for striking partners Roberto Firmino and Sadio Mane proved the difference, as Liverpool were very comfortable winners.
YouTube: JMU Journalism
It was a strange atmosphere, as Red Star Belgrade's supporters were banned from the game by UEFA, although some still managed to sneak in.
It was not until the famous rendition of 'You'll Never Walk Alone' rung around the stadium that I realised how special football like this can be. A moving tribute as always, it is hard not to appreciate this kind of atmosphere, even as a neutral.
Before we knew it, the game was on and the job had started. Our role was primarily to produce a video package, plus live updates on Twitter, which required fast-typing, razor-sharp focus and sound communication.
Apart from one or two mistakes, our tweets managed to provide context and detail, which was really pleasing.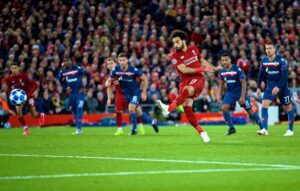 This was my first insight into what life might be like in the industry, and I learnt that watching a game as a fan and as a reporter are two completely different things.
As a spectator, you get to appreciate every detail. However, as journalists – just like the rest of the professionals present at the game – we were glued to our devices for most of the match, disregarding any detail that was not important.
It was very easy to forget the privileged position we were in. The moment that really put the experience into perspective was watching the managers' press conferences at the end and sitting just yards from Jurgen Klopp.
Despite everything having to be translated for the Serbian media, and having no microphones because of an earlier power cut, I still felt immensely lucky to be in the room.
I am grateful to be rewarded with this opportunity by my tutor. It was an experience that I will relish doing again, whether it is reporting non-league or Champions League.
Being a football fan can only take you so far as a young reporter. Hard work and dedication can take you even further.
Twitter: JMU Journalism
Hard at work at half-time: @JMUJournalism at Anfield as Liverpool lead Red Star Belgrade 2-0 in the UEFA Champions League. #LIVRED #UCL pic.twitter.com/azN9XK7pGT

— JMU Journalism (@JMUJournalism) October 24, 2018