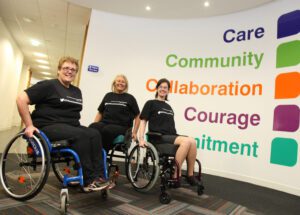 Liverpool NHS staff have taken part in a 24-hour charity challenge as part of the recent Wheelchair Summit to improve the NHS service for chair users.
Three women from Liverpool Community Health (LCH) carried out their daily routines at work wheelchair bound, to gain understanding of issues faced by those with disabilities. They also wanted to raise awareness to find out how additional support can be given to those in need.
Christine McGhee, Clinical Operations Manager, Amanda Pye, the Interim Director of Nursing of Liverpool Community Health, and Nicky Ore, Community Equipment Advisory Service Manager, took part in the challenge.
Amanda told JMU Journalism: "It's essential we support out patients to remain as independent as possible. LCH aims to deliver high quality, flexible health care services which reflect and meet the needs of local communities."
The challenge to the LCH leaders was issued at the Wheelchair Summit in autumn as part of the 'Right Chair, Right Place, Right Now' campaign by NHS England, which supports around 10,500 wheelchair users.
The new scheme in Liverpool is the only trust in the country that provides a service for users in the same day, as most people will now be able to be assessed and fitted for an NHS wheelchair in a single appointment.
Christine McGhee told JMU Journalism: "I decided to take part in the challenge so I could gain a better understanding of the daily experiences of our service users. Some things that non-wheelchair users take for granted, for example getting through narrow corridors, greeting other individuals or even making a cup of tea, can become difficult.
"It is important to understand our patient's experiences so we can change our approaches to delivering better care."
Sir David Nicholson, Chief Executive of NHS England, made it his pledge at the Wheelchair Summit to bring  users together with NHS clinicians and managers to improve the services.