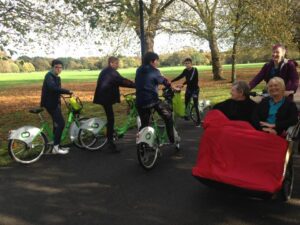 A global initiative to give seniors and those with disabilities a chance to tackle loneliness is coming to Liverpool.
For the first time, Sefton Park is set to host the scheme' Cycling Without Age', where generations are being brought together on special trike rides, giving them "the right to wind in your hair".
Originally a movement which started in 2012 in Denmark, it was designed to let those with limited mobility enjoy the freedoms of being on a bike in their natural surroundings.
But, Dan Robinson who runs Peloton Liverpool, decided to take this idea and bring it to his own city with some more developments.
He said: "I used to work in managing halls and residents. There were a lot of students arriving in Liverpool and there'd be a lot of loneliness involved in that because they were missing their families.
"So I looked at the issues that we're having with our older people, and it looked like the old traditions of living with your grandmother in the same house were not as prevalent now.
He said he wants to use the young people's physical ability and the older people's wisdom and emotional strength as a way of building bridges between the generations and tackling their shared problem of loneliness.
Collaborating with community Facebook group, The Friends of Sefton Park, it became possible to be the first scheme in the North West to deliver this project.
Using power-assisted trikes provided by Peloton, volunteer pilots cycle around the Grade One listed grounds with a cab at the front for their passengers to take in the nature.
YouTube: Sarah Almond
Dan said: "My whole aim was to get my mum on this bike, but because she had become agoraphobic I knew she wasn't going to get on it."
He said how, for six years, his mother lived with dementia before she passed last year and he spent some time trying to get her to join in too after telling her about his new project.
"I was interested in memory care," said Mr Robinson. "It could help with people who were a little bit more anxious about losing their memory. So there was something there about being able to be in the park without any pressure and it's been so beneficial for people living with these conditions."
"This project is in its infancy, and because it's so small we are keeping it close to us, and it's good that we have one now, but I really want a home and a trike in each park."
Cycling Without Age will host its  first session on Tuesday February 18th, where people will be able to get trained on these bikes and experience their first ride around the park.