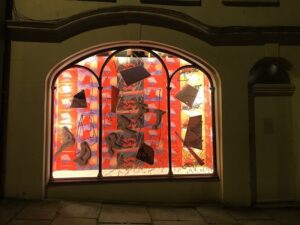 An installation has been created on Bold Street to represent an experiment in expanded drawing, based on ideas around landscape and the contemporary environment.
The display, entitled 'Adrift in Transient Spaces', took a full day to complete and will be on show up until March 31st.
Sheffield-based visual artist, Karis Hopkinson, who also works as a barista to support her craft, created the piece on an empty window space in Liverpool.
Karis says she was inspired by the modern environment as it is so multi-faceted, which is reflected in her work.
She creates the unfamiliar and unknown through texts, colours and ambiguous shapes as a representation of how she views the world.
Karis told JMU Journalism: "My work is directly inspired by my environment, especially in terms of different forms of landscape; the clashes and harmonies between man made and natural spaces, the permeation of popular culture into art and landscape, and the language of advertising."
The art draws upon her interest in the nature of place as she focuses on the history and romanticism of advertising in cities.
She added: "It doesn't have one singular meaning; it is more about exploring these themes and blurring lines between familiarity and obscurity, in order to see what might happen."
Karis received a BA in painting in 2017 and is currently working on a MFA.
YouTube: Rosie Patel