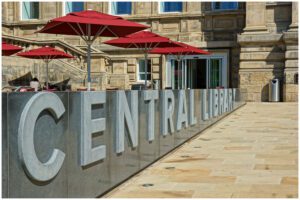 Entrepreneurs will be offered free help from a new centre that hopes to boost business in Liverpool.
The Business and IP Centre, based in Liverpool's Central Library, opened last Thursday and is built upon the British Library's successful model in London.
The centre supports entrepreneurs to start and scale up businesses by providing access to comprehensive business and IP collections and expertise. There are also practical workshops, webinars, one-to-one advice and networking events.
The initiative is part-funded by Department for Communities and Local Government as well the Arts Council England's 'Enterprising Libraries' programme.
Liverpool's centre is just one of seven in the UK and was opened by councillor Gary Millar, the council's Cabinet Member for Business, Enterprise and Investment.
He said: "Liverpool is a city full to the brim with business-savvy entrepreneurs who may have great ideas, but some are unsure whether they can be protected. Our new centre will provide them with invaluable advice and support, giving them confidence in their idea and helping them take the next steps to make it a reality."
The city council is working in partnership with Liverpool Vision, Liverpool Chamber of Commerce and the British Library in London who will run a programme of events at the centre.
Tony O'Neill, Head of Business Growth for Liverpool Vision, told JMU Journalism: "We've decided to collaborate because the Library's services to business have been a bit of a hidden gem in the past.
"The national initiative by the British Library to make access to all of this more high profile and professional gives the Library – and by extension the businesses and entrepreneurs of Liverpool a more accessible feel."
O'Neill added that Liverpool Vision wants the new centre to make the whole process of starting a new business less painful, by making access to help and support a normal part of the fabric of the city.
As well as free workshops, the centre will offer speed mentoring sessions and networking events delivered by business experts focusing on a wide-range of topics including starting up, marketing, finance and how intellectual property can protect products, brands and designs.