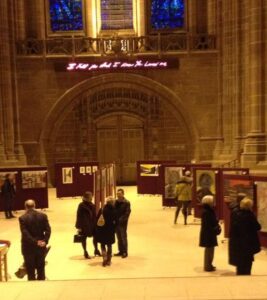 A new art movement, created by four university graduates, has been launched in Liverpool.
The Liverpool School is said to be the first art movement in the country to be created in at least 40 years.
It was officially launched on Friday with Lord Mayor Gary Millar opening their first exhibition.
The artwork, which is currently on display at the Anglican Cathedral, has been created by the movement's members – Mike Rickett, Paul Doran, Deborah Butler and Gabrielle Caul. Using city life, buildings and transportation as inspiration, the artists redefine urban art in geometric painting.
Each artist has interpreted the Liverpool landscape in their own way and in their own distinctive styles. Rickett, who recently graduated with a degree in Fine Art and a Masters in Creative Practice from Liverpool Hope University, told JMU Journalism how the creation of the movement occurred.
He said: "Myself and Paul Doran, we're both graduates from Hope University. In our final year we found that both our work was generally similar and based on urban art. So we decided to think in terms of re-defining urban art and doing something new with it which is what we've been trying to do over the last year. We've now got four members and we decided to launch this new art movement."
The school has taken some inspiration from Liverpool's first art movement, the Sandon Society. Launching an art exhibition in 1911, the Sandon Society introduced impressionism to the city and almost caused a riot.
Mr Rickett said: "I don't think we are going to do that! We are doing something new hopefully with art that hasn't been done before. The idea eventually will hopefully be that the rest of Britain will take it on board or even internationally."
Lord Mayor Gary Millar was very impressed with the exhibition and he told JMU Journalism: "I loved it. There are four artists and four different styles. It is great to see a new art movement in Liverpool."
The exhibition will be on display until 27th February from 10am to 5pm each day. The artwork on display is for sale, although availability may now be limited. Admission to the cathedral and exhibition is free.