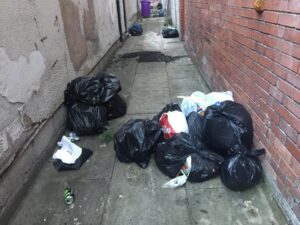 Liverpool's dirtiest areas may be fitted with underground bins in a bid to tackle the city's rubbish and rat problem.
The £6m scheme has been approved and will seek to clean up some of the most damaged and litter-strewn alleyways in the city, but some councillors are not convinced it will work.
Liverpool has 22,000 properties with that are not provided with waste or recycling bins. This is set to change with the introduction of a revolutionary underground rubbish disposal system.
The proposed new scheme will have a large on-street container with 10 large bins directly underneath them, allowing each street to dispose of its rubbish instead of keeping it in their backyard or alleyways.
The clean-up campaign will attempt to prevent vermin and other small animals from being able to tear open waste bags and burrowing under paving slabs.
The new bins could be introduced in some of the worst affected areas by October, starting with streets in County Ward.
Streets in Kensington, Tuebrook and Anfield could also expect to have communal waste containers as those areas are the next targeted. They will only be used on roads with 4ft alleyways and refuse will be collected weekly.
Councillor Laura Robertson-Collins, Chair of the Neighbourhood Select Committee, told JMU Journalism: "I am not a fan of this proposal as I believe this encourages waste production, and does not encourage waste reduction or separation for recycling.
"I am aware there are different needs in different parts of the city and this may become necessary in some areas, however, to deal with lack of space for waste storage.
YouTube: Lori Dunlevy
"My personal view is that the council and wider government and society need to be focused much more on waste reduction, re-use and recycling now. I have pushed for and will continue to promote this."
Councillor Kris Brown told JMU Journalism: "This will be one of the biggest change to personal waste management since the introduction of the purple wheelie bin, and will require a huge cultural change in how people dispose of their waste and recycling.
"The council must put a particular emphasis on educating about disposing of waste responsibly and take firm action against persistent offenders who choose not to play by the rules if this new scheme is going to work."
According to Liverpool City Council, a total of £1.5 million would have been spent by next April in priority areas where surveys have already been carried out, but it says residents will need to work with the local authority in order to reduce the amount of waste and for plans to be successful.
Twitter: Liverpool City Council
You can report missed bin collections, flytipping and passage dumping here https://t.co/0cF8xDnTIa ♻

— Liverpool City Council (@lpoolcouncil) September 30, 2018