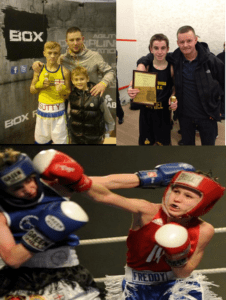 Three teenage boxers from Liverpool are set to represent England after becoming Amateur Boxing Association champions at the weekend.
Daniel Stringer, of the Rotunda boxing club, was the first of three winners at Everton Park Sports Centre with his class three win over Patrick Ward in the 52 kg category. He tweeted hours after his win: "First chippy tea I've had in about seven weeks, diet's out the window this week! #Deserved."
Freddy Young, of Birkenhead Venture, won his bout against George Jago by a majority decision in the 60kg division. This victory made it a clean sweep for the England captain after winning schoolboy championships in four successive years in the minor, class one and class two grades before topping it off with the class three win this year.
Young told Bay TV: "I've worked on my skills and I've been getting much better, standing back and boxing instead of going in for the kill. My first year I was looking to have a rough time but as you get older and start putting the weight on you can't really do that anymore so I've been looking to stand back and just box."
Kieran Sutton, also of Birkenhead Venture, was crowned champion in his class two contest against Will Cooper in the 52kg category.
Stringer, Young and Sutton will now represent England at the Great Britain Championships later this year.