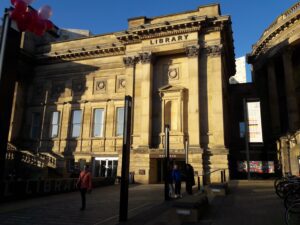 Liverpool Central Library has been chosen to host the launch of a national campaign to get adults reading.
The Quick Reads initiative, established in 2006, enlists six popular authors each year to write an easily accessible book.
The authors picked for 2020 include former police officer and crime writer, Clare Mackintosh, creator of the Bradford-based Harry Virdee series, A.A. Dhand, winner of Channel 4's Come Dine With Me, Milly Johnson, ex-doctor Adam Kay, and Blackwell's Debut Book of the Year 2019 champion, Candice Carty-Williams.
Denise Jones, Development Manager for Liverpool Libraries and Information Services, explained how Quick Reads aid adult literacy. She told JMU Journalism: "They are a version of a current novel in which the words and language used have been adapted for a simpler read without detracting from the pace or excitement of the story."
The launch will take place at 6pm on February 18th, with featured authors Milly Johnson, A.A Dhand and Clare Mackintosh in attendance to participate in a panel discussion. Tickets for the event are free, although must be obtained in advance through Eventbrite.
YouTube: Maisie Harvey
The future of Quicks Reads came under threat in 2018 when The Reading Agency, which has run the scheme since 2014, announced it no longer had sufficient funding. Former journalist and twice winner of the Romantic Novel of the Year Award, Jojo Moyes, stepped in and gifted £360,000 – enough to sustain the literacy scheme for three years.
Karen Napier, chief executive of The Reading Agency, said: "We are delighted to be holding the Quick Reads 2020 launch in Liverpool Central Library. We've chosen Liverpool in support of the city's Year of Reading 2020 #LiverpoolReads and to celebrate the beautiful Central Library."
The Mayor of Liverpool, Joe Anderson, has designated this as a year of reading in the city, and more literacy-centric events are planned for later in 2020.