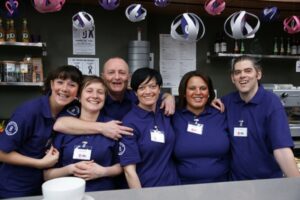 The founder of the first non-alcoholic bar in Liverpool has been named the UK's top social entrepreneur for her work in helping people with drink and drug addictions.
Last night it was announced Jacquie Johnston-Lynch would be the first ever winner of the Lloyds Bank and Bank of Scotland Social Entrepreneurs Programme award.
The award is for people who run social enterprises, a scheme that puts its profits back into their community.
Jacquie Johnston-Lynch told JMU Journalism: "It's such a wonderful accolade, not just for me but for the whole team who make The Brink such an incredible place."
Three quarters of The Brink's staff are recovering alcohol or drug addicts and the bar has made over 1,800 interventions for people who had a drink or drug problem since its opening in September 2011.
Miss Johnston-Lynch said: "In addition to this we commissioned a study which has given The Brink a monetised value of £6. That is to say that for every £1 invested in the Brink we are saving the state a further £6 in costs to the health service, the police and to Social Services."
Miss Johnston-Lynch received a £10,000 cheque for winning the award and the prize money is going to be invested in some minor refurbishments, a new marketing plan and additional training for people with addiction problems to enter the hospitality industry.
Miss Johnston-Lynch said: "Due to the confidence that SSE instilled in me, I am now moving on to set up some new projects. I will remain a linked up advisor/consultant to The Brink but will be developing some new initiatives very soon."
Graham Lindsay, Group Director, Responsible Business at Lloyds Banking Group, said: "Jacquie receives our heartfelt congratulations for winning this inaugural award for making such a positive difference with The Brink."