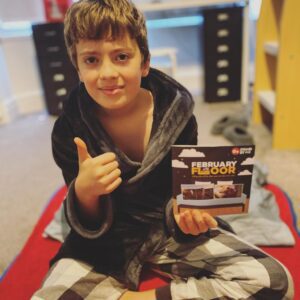 A selfless youngster is sleeping on the floor for a whole week to raise funds to buy beds for some of the world's most vulnerable children.
Nathan Halewood will be undertaking the 'February on the Floor' challenge from tonight and is aiming to raise enough to pay for five beds for children in Ethiopia.
He has already collected £520 through his fundraising page, which is enough for almost four complete beds with mattresses, pillows and blankets.
The 10-year-old from Wirral, said: "Sometimes you take it for granted and think 'oh well, I have a bed', and we don't normally think about other people.
"I thought 'these people don't have beds and that's an everyday thing for us', and I thought 'why not to do this.'"
Nathan decided to take on the endeavour after his father told him about the challenge. The fundraiser is being organised by 'Stand by Me', a UK-based Christian charity that aims to support some of the most vulnerable children in developing countries with fundamental needs.
Sleeping on the floor, often on cold, hard surfaces, is uncomfortable and deprives children of sleep. Something as basic as a bed can improve the home life for these children.
Sleeping on his bedroom floor will be challenging for Nathan this week, but the kind hearted youngster is up for it.
He said: "It's only a week. But for other people it's everyday life. So, I'm up for it."
Nathan's initial target was to raise enough to pay for one bed, but the overwhelming support of family and friends has enabled him to aim higher. Each bed costs £140, but he has been able to collect almost four times that with the backing of 32 people so far.
"I'm very thankful for all the people who have donated to this charity," said Nathan. "I can't wait to know in the end how many beds I've raised money for."
Watch our chat with this remarkable young man>>>
You can donate to Nathan's February on the Floor challenge HERE.