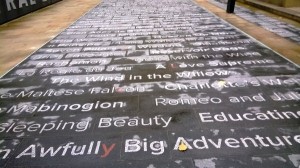 Three literary detectives visited Liverpool Central Library and discovered more than they bargained for as they uncovered a secret code.
The entrance steps into the newly refurbished building on William Brown Street feature literary terms and book titles, however the detectives noticed a scatter of red letters amongst them and set to crack the code.
Over 500 library visitors and passers-by participated and many solved the clues, with three chosen at random to be rewarded with £50 book tokens last Friday afternoon.
The code has not been revealed as organisers want visitors to solve the puzzle for themselves.
Councillor Wendy Simon, the city council's member responsible for libraries, said: "Even in very early designs of the literary pavement, we wanted to have contained within it a secret puzzle that would pique the interest of our visitors.
"We knew the red letters would stand-out and get people questioning why they were different to the rest of the lettering on the pavement and as soon as they asked a member of staff they were told they were on the way to uncovering one of the library treasures.'
The entry pavement is covered in literary quotes from books, movies and songs which were chosen by members of the public.
The library underwent a £50m makeover in May and was officially reopened by HRH Prince Edward last month.