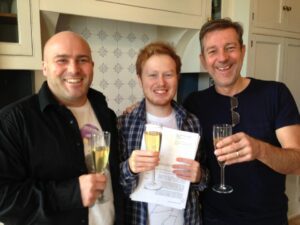 Local underground musician Ali Ingle has been granted a shot at stardom after signing a recording contract with a top music mogul.
The 23-year-old singer-songwriter from Liverpool has had nothing but success in the past year.
After nearly a decade of being involved with music, Alistair was recognized at the 2012 Liverpool music awards, winning the 'Best Male Artist' category.
Ali told JMU Journalism: "I feel a duty to represent my city. I want to make those close to me proud.
"Winning the Liverpool Music Award was a great honour and I feel like I'm starting to earn it."
Kundun, the label which has snapped the artist up, is run by Guy Holmes, an influential figure in the music industry.
Having previously worked with major labels such as EMI and Island Records, he has an impressive list of artists he has taken under his wing throughout his 30-year career, including huge names such as U2, Michael Jackson, The Rolling Stones, and more recently, Jessie J.
Now embarking on his own venture and record label, Guy offered Alistair a recording and publishing contract.
Ali added: "It means that I will be funded to get everything I need, including recording music and videos, to a high level.
"It is a team of awesome people representing me in promotion and live shows and everything I need to succeed. It is a UK and US based record label."
Stunned by the opportunity, and excited for what the future holds, Ali described how it feels to achieve what every musician longs for – a recording deal.
He said: "I have achieved a huge personal goal. I have completed a seemingly impossible dream. I will be making a living out of my passion. I have a long way to go but it is a very big step into a journey I intend to see through to the end.
"I feel like it's Christmas!"
Reflecting his personal music style and influences, Ali added: "I would love to work with David Gray, that would be my ultimate writing fantasy. I was going to say Van Morrison … but I've heard he's a bit of a crank!"