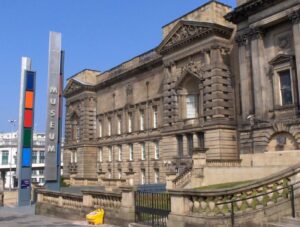 An app which helps people living with dementia has taken home the prestigious 'Innovate Dementia Award' at the World Health and Design Forum.
The Forum, held in Eindhoven, Netherlands, shortlisted the app alongside two other projects for the prize. The app, 'My House of Memories', was co-produced by people affected by dementia alongside their carers. Several organisations, including John Moores University, helped develop the programme.
The app itself allows people living with dementia to browse social history objects from the Museum of Liverpool's collection to help prompt recollections that can lead to conversations. Since its June launch earlier this year, the app has already been downloaded more than 1,400 times.
Carol Rogers, Executive Director of Education, Communities and Visitors at National Museums Liverpool said: "We are so proud to win this award for our My House of Memories app. It demonstrates that the work we're doing to help people living with dementia is having a real positive impact."
Phil Redmond, Chair of National Museums Liverpool, said: "It is also a model of how public funding should be used in a co-ordinated way and I am sure National Museums Liverpool will continue to be an exemplar of how best to integrate cultural assets with wider social policy. What Liverpool does today, the world generally follows later."
Hazel Bayley, regional operations manager for Alzheimer's Society in the North West, told JMU Journalism: "The My House of Memories app was created for people living with dementia but most importantly with input from those living with the disease, and we know that it is already having a positive impact on people's lives.
"It is a great example for showing how technology can support people with dementia, their carers and families – sharing experiences together helps to continue a strong relationship and create new connections. National Museums Liverpool should be really proud of their achievements."
There are plans to develop the app around the country as part of a scheme training carers to better understand dementia using local museums.
Rogers continued: "Although the app uses objects from our social history collection here in Liverpool, they are relevant to people everywhere."