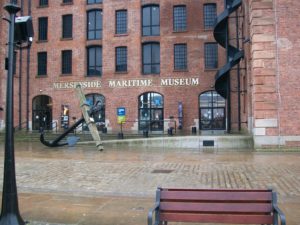 Liverpool's Maritime Museum is hosting a new free exhibition which aims to give tourists and locals a better understanding of the Titanic and the connection it has with the city.
The infamous cruise liner was registered in Liverpool, making the city her home port, as shipping company White Star Line owned The Titanic and was based here.
The exhibition, entitled 'Titanic and Liverpool: the untold story', follows on from last year's centenary of the sinking of the ship, and adds to the museum's permanent gallery 'Titanic, Lusitania and the Forgotten Empress'.
It is now open to public viewing and will end on April 21st this year.
The centenary of the sinking in April last year brought with it a surge of interest in the Titanic and Maritime Museum Curator Rebecca Watkin told JMU Journalism: ''We've had over 500,000 visitors since March 2012, which is way more than we imagined.''
'Titanic and Liverpool: the untold story' boasts a variety of different items, including the only known surviving first class ticket and new shipwreck items which have only recently been put on display. Rebecca added: ''We hope the personal stories come through in this exhibition and the objects complement these accounts.''
The exhibition cost £150,000 to set up and the latest addition to the display is a collection of letters that were written by Liverpool-born Henry Wilde, who was second in command aboard the Titanic. These documents give vivid accounts about life aboard the Titanic, and show his personal experiences along with key diary entries.
Rebecca said: ''There are a lot of personal stories, and I like to think that it is not our voice but it's the families affected. I hope the exhibition is more about their voice than the curators.''