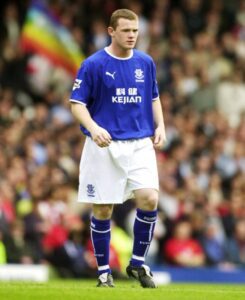 Wayne Rooney once donned a t-shirt proclaiming the statement: 'Once a Blue always a Blue' and Everton manager David Moyes this week predicted that the Manchester United striker would one day return to the club he supported as a boy.
Moyes spoke of the excitement Rooney provided in his early career, and said he would not hesitate to welcome back the boyhood Evertonian.
The Toffees boss was speaking on the 10th anniversary of Rooney's famous spectacular debut strike when he was aged 16 against Arsenal at Goodison Park in 2002.
Moyes told the Liverpool Echo: "I would definitely welcome Wayne returning here. It's in his blood. But it's probably more likely to be later on in his career. I think it might be something that he'd even welcome."
The England international acrimoniously left Everton to sign for Manchester United in August 2004 at the age of 18.
When Rooney indicated he would like to quit Old Trafford two years ago after handing in a transfer request, JMU Journalism asked Evertonians if they would welcome him back, and opinions were deeply divided.
This week we asked Blues fans the same question on Twitter and responses were much more positive. @SeanyG_efc tweeted: "Yes definitely. Top player, still a fan."
@lukeofarrell said: "Yes, I think it is time to move on from all that now. I'd have him back tomorrow."
@Slanester replied: "Yeah why not, you can't blame the lad for wanting to consistently vie for silverware"
However, @Mrjohncoyne tweeted: "No, he was dead to us when he left, and even more so when he kissed the [Man United] badge at Goodison."
Other fans were cautious about what an older Rooney nearing the end of his career may have to offer. @Burnsy90 said: "Not if he's an old passenger in the side! We have enough of them already!"