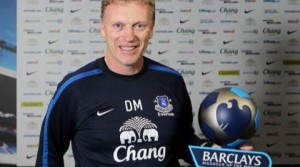 Everton's David Moyes has been named the Barclays Premier League manager of the month for September after an impressive start to the season for his side.
Usually regarded as slow starters, the Toffees go into the international break fourth in the table, five points behind leaders Chelsea.
Moyes' men have impressed ever since the opening day victory against Manchester United, followed by an away win at Aston Villa.
Despite a hiccup at West Brom and a controversial home draw with Newcastle, the Blues went on to dismantle Swansea in relatively effortless fashion before recording another victory over Southampton at Goodison Park.
September results
Everton 1-0 Man United
Aston Villa 1-3 Everton
West Brom 2-0 Everton
Everton 2-2 Newcastle
Swansea 0-3 Everton
Everton 3-1 Southampton
This early season form has echoes of the 2004/05 season when Everton finished fourth and qualified for the Champions League.
Moyes feels that his current side are more than capable of achieving the same. Speaking to Everton's official website he said: "With the quality of the Premier League it is really hard to qualify for the Champions League but I wouldn't say we can't do it. It is possible and you have to aim for that.
"If we fall short and end up in the Europa League then so be it, but in recent years we have been pretty close, finishing sixth, seventh or eighth, so we want to do that at the very least."
The Scotsman is still keen to stress the need for a sense of calmness around Goodison Park, telling the official website: "I do say it carefully as I see 10 games as a start and we are only six or seven in at the moment. We have to be careful how we view it.
"But I am really pleased and with all these awards it comes as a team thing. It is something the whole team has strived to achieve.
"The players have played well, they are in good form. We have had a good start to the season through August and September and big thanks to Barclays for giving me this award."