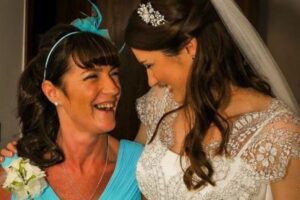 A woman from Crosby will take on the challenge of climbing Mount Kilimanjaro to raise money for the care centre that helped save her stroke-victim mother's life.
Angela Pinela, 49, was admitted to the care of The Walton Centre after suffering a brain haemorrhage and stroke at the age of 34.
She was told that she may never be able to walk or talk again, but Angela continues to make progress after intensive rehab.
The Walton Centre in Liverpool is a specialist neuroscience hospital treating over 100,000 patients a year with conditions including head and spinal trauma injuries; tumours of the nervous system; epilepsy; multiple sclerosis and motorneurone disease.
In celebration of her mother's 50th birthday, daughter Samantha, 31, and her husband Aaron, 37, will take on the mountain together. She told JMU Journalism: "My husband and I are both really excited and nervous about the trip, we know it's going to be tough, but with such a worthwhile cause benefiting from our efforts, we can't wait to give it our all.
"The centre helped her from the moment she fell ill. They performed all of her surgeries and then once she was fit enough she went to their rehabilitation centre for a year where she learnt how to walk, talk and how to manage with everyday life."
The couple also said that they will be funding the trip as they wanted to ensure every penny of donations that they receive go straight to The Walton Centre.
Mount Kilimanjaro, in Tanzania, is one of the most difficult mountaineering expeditions and will take the couple up to nine days until they reach the summit.
With a set target of £5,000 Samantha hopes that everybody can come together and help raise more money for The Walton Centre.
Samantha's family have all been involved in the fundraising efforts and will be hosting a fundraising night on May 21st at The Crosby Comrades Club.
Contributions for the cause can be made by visiting the donations website here >>