A mother is searching for her late son's artwork which is thought to be in storage in South Liverpool.
In November last year, Merseyside Police confirmed the sad news that the body of Claire Beach's son, Josef Thompson, was found in woodland within Sefton Park.
Josef, who commuted to University of Huddersfield from Aigburth, mentioned moving his paintings just weeks before his death.
His mother Claire told JMU Journalism: "He told me and his art tutor sometime in October that he had found a studio space to share near his home in Aigburth.
"This was slightly odd as he had working space in the house he shared [with his former girlfriend].
"However, he removed his artwork from [University of] Huddersfield and ostensibly took it to his studio space. Nobody knows where this was or who he was sharing with."
YouTube: Uni Huddersfield
The 22-year-old's artwork is of a particular style and often features buildings, churches and other architectural designs.
Wishing to locate her son's university artwork, Ms Beach hopes his paintings have not been disposed of by himself or someone else who needed the storage space.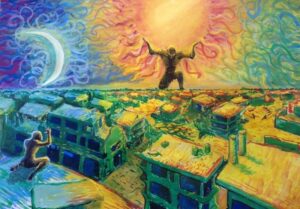 She added: "The work may have been destroyed, but I have to look as his tutor said it was some of his loveliest pieces and all of his most recent work.
"There were some other finished pieces missing from the university that they suspect had been taken too. There was very little there for three year's work.
"I need to give it a last try to find it and then I need to say I did my best and be grateful for the work I do have of his.
"He has so much verve and energy and talent. It is so sad he died so young."