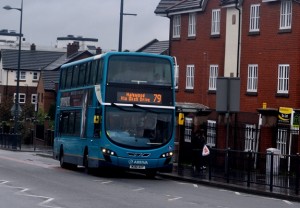 All but four of Liverpool's bus lanes have been officially scrapped by Liverpool City Council following a trial scheme, leaving operators concerned about how important routes will be affected.
Liverpool City Council approved the controversial decision on Friday to remove 22 of the 26 lanes after a year-long suspension to try and improve congestion problems.
A report by consultants Mott MacDonald of 21 bus routes during the trial suggested that, while journey times on some paths were seen to improve, on 13 of the roads buses were running slower and on six of them cars and buses both saw increases in trip time.
A leading provider of bus travel in the city, Arriva, said in a statement that it is relieved the report had suggested keeping four city centre lanes but they were still finding it difficult to recommend the decision.
The statement said Arriva "has always accepted that a number of the existing bus lanes are not essential" but added: "[Arriva] believe that the road conditions created by the permanent removal of the majority of the bus lanes, with no guarantee of recommended alternative measures being put in place, could potentially lead to bus operators failing to meet punctuality standards and deter future passengers from using public transport."
The initial decision to suspend the bus lanes was met by criticism from bus providers and users who thought the services would be negatively affected and, prior the council's final approval, a number of people demonstrated outside the Town Hall in protest on Wednesday.
JMU Journalism TV report by Holly Jones
Councillor Malcolm Kennedy, Cabinet Member for Regeneration, Transport & Climate Change, said that the effect on bus services overall would be marginal and that companies themselves can do more to improve them.
Cllr Kennedy told JMU Journalism: "The absence of bus lanes meant a small increase in journey times depending on the length of the journey but, with some exceptions, led to a general improvement in personal journey times overall."
He added: "The bus companies were fully engaged in the process. We believe they can do a lot to improve their own service, such as speeding up the entrance and exit of passengers through a greater movement to cashless travel."
Chief Executive of Merseytravel David Brown said that its priority was to see that bus users weren't disadvantaged and he was looking forward to the council implementing the plans.
He said: "Many people on Merseyside rely on buses and we want to ensure they get an effective service."
The council stated that it was exploring numerous options to improve travel in the city, including the possible introduction of London-style red routes to Liverpool, which would ban all cars stopping on them at any time.