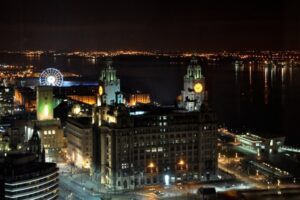 New figures have revealed that, despite the testing economic times, over £1 billion of regeneration work was started in Liverpool in 2013.
A total of £1.06 billion was invested into rejuvenation projects across the city last year, which is estimated to generate more than 4,250 jobs.
The last time Liverpool experienced investment on this scale was in 2008 when the city was crowned European Capital of Culture.
Mayor of Liverpool, Joe Anderson, said: "This is really good news for Liverpool, and proof that our business-friendly approach and willingness to work with the private sector is paying dividends.
"The massive amount of regeneration activity which started in this city during 2013 is very encouraging and shows that we are beginning to overcome the economic downturn."
Key developments that have begun in the last 12 months include a massive £331 million investment in health facilities, incorporating the new Alder Hey Children's hospital, which will see 417 new jobs created. Meanwhile, £100 million has been invested into building three new schools, such as £17 million spent on the new Archbishop Beck Sports College.
The council last year broke ground on over 2,600 homes.  In addition to key projects in Anfield, where £23 million has been invested in new housing and the refurbishment of 550 homes, which is a part of the wider £260 million regeneration plans for the area.
Mayor Anderson added: "I am a firm believer that our best days lay ahead of us and I'm making it a priority, over the course of my term, to create 20,000 new jobs, to deliver 5,000 new homes and to make Liverpool the preferred choice for investment. It's vital that regeneration continues in this city and those we do not allow the momentum we have built in recent years to fall away.
On the day the council announced how they plan to cut a further £156 million from their budget in the next three years from the public sector, the council claims that the figures reveal Liverpool's ability and desire to attract substantial private sector investment.
Anderson added: "These new figures show that Liverpool is open for business as never before. We are making the most of our assets and working creatively with the private sector, and that is a message which is being received loud and clear by investors."
As well as major investment in the city centre, Liverpool's neighbourhoods are also said to be benefiting. The new figures show that development outside the city centre is at its highest level ever, with £372 million of schemes projected for completion during 2014.