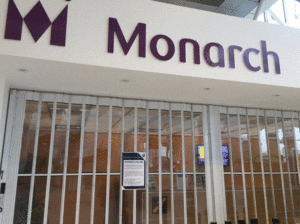 Operations are continuing to help those stranded abroad return home, following the collapse of the UK's fifth biggest airline, Monarch.
Many of the 300,000 affected are from Merseyside, as the airline ran 40 different routes from Manchester Airport – where their last-ever flight touched down on Monday morning as the business went bust.
Almost a quarter of the 110,000 currently abroad have had alternative transport back to the UK already.
However, this is no help for those who have future bookings, including Liverpool-based journalist Matthew Crist, who was part of a large group scheduled to fly to Lisbon for the upcoming Manchester United game against Benfica.
He told JMU Journalism: "We have to go to a collection point in the city and show ID to collect tickets. It's very strict, so anyone who has had to cancel their trip won't be able to transfer their ticket to someone else. Therefore, most of us were reluctant to scrap our plans, and have coughed up pretty much whatever it costs to get back.
"As soon as the news broke, alternative flights were selling for upwards of £150. One of our group is on holiday in Singapore, so by the time he was able to book a replacement it was an extra £200," he added.
Twitter: BBC North West
Nearly 3500 people are being flown back into Manchester Airport after the collapse of the Monarch airline. 7 planes have been chartered by the Civil Aviation Authority. pic.twitter.com/Yq2EUpJqfF

— BBC North West (@BBCNWT) 2 October 2017
Alex Tingle from the Wirral has also been forced to rebook out of his own pocket. He told JMU Journalism: "We booked a trip from Manchester to Venice for next week. All I received was an email on Monday saying that flights up until October 6th have been cancelled. We're still waiting to hear more and all of their phone lines have been busy.
"I've managed to book onto a flight with Ryanair from Leeds-Bradford, which obviously doubles driving time, fuel costs and parking. If I get a full refund, I'm about £250 down. If not, a short trip that only cost £250 might now potentially set me back around £650."
Liverpool resident Lynn Thompson is another affected passenger who was allowed to book flights with Monarch as recently as Sunday. She told JMU Journalism: "Twenty minutes after booking our trip for next October, we learned they could be going into administration. I don't think they should be allowed to advertise for so far ahead, knowing that they were going to collapse."
Monarch has been in administration since ceasing trading on Monday, having shut down all its social media accounts. The firm has issued instructions for those with bookings here.