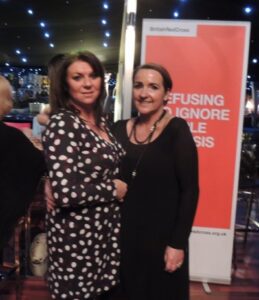 The British Red Cross held a five-star fashion show at Wirral's Hillbark Hotel last week to raise money for the charity.
Local fashion stores showcased their latest collections on the evening.
The first store to show was Trip, a small store in Parkgate. Guests saw a display of daytime jumpers and cardigans as well as glamorous evening dresses.
Following this was Smudge in West Kirby, a trendy store which stocks ready-to-wear items for those Wirral fashionistas.
In the short interval, dance group Hype performed a show-stopping routine, then a raffle was held giving away 17 prizes including a Chlobo bracelet worth £110, a spa day at the Hillbark hotel worth £500 and a vintage Gucci bag.
Ina Schmidt, patron of the British Red Cross who alone has raised £125,000 for the charity in the past five years, organised and designed the fashion show.
She said: "The Red Cross is the biggest humanitarian organisation. Our country could not survive without the work my colleagues do."
Bringing an edge to the fashion show after the break was Alise Vintage, from Chester. Staff at the Hillbark Hotel modelled this collection, sporting a range of vintage furs, silks and art deco dresses.
The last designer was Opulence Bridal wear from West Kirby. The award-winning store showed an array of different gowns from bridal and prom dresses, to accessories and veils.
The night was an overwhelming success for the charity, as 180 people attended, raising nearly £4,000 from tickets and the raffle alone.
Mrs. Schmidt added: "I put my heart, my soul, my brain into work because I know every penny is going in the right direction internationally, nationally, locally.
"It's been great to have all these companies in support of The Red Cross."