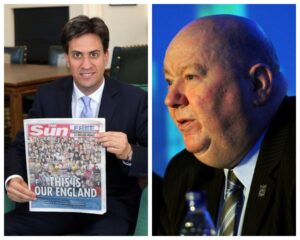 Labour leader Ed Miliband has apologised "to those who feel offended" after posing with a copy of The Sun newspaper, following a wave of criticism from local MPs and Liverpool Mayor Joe Anderson.
Miliband sparked anger after being pictured with a souvenir edition of the paper, which had already caused controversy after postal staff on Merseyside refused to deliver the free issue to mark the start of the World Cup, threatening strike action.
The Sun, which is subject to a widespread boycott on Merseyside over its reporting of the Hillsborough disaster in 1989, had also persuaded other party leaders to be photographed holding the newspaper, and Miliband's decision to show his support outraged local Labour supporters and officials.
Liverpool Labour Councillor Martin Cummins, who represents Croxteth, resigned from the party in protest.
Mayor Anderson said in a statement: "My city was offended and insulted by the lies and smears peddled by The S*n and their hindrance to our fight for justice is something that will never be forgotten.
"For the leader of the Labour Party to make such an offensive gesture insults not only me but every person in the city. This is just another example of how out of touch the politicians in their ivory towers are from the lives of ordinary people.
"It begs the question – were the comments he made after the Hillsborough panel report sincere or just sound bites?"
Some Liverpool MPs raised objections with Miliband in Westminster and Walton MP Steve Rotheram said: "He never meant any offence but in my opinion it shouldn't have happened in the first place."
A spokesperson for the Labour party chief said today: "Ed Miliband was promoting England's bid to win the World Cup and is proud to do so. But he understands the anger that is felt towards The Sun over Hillsborough by many people in Merseyside and he is sorry to those who feel offended."
Many households refused to have the free copy of the newspaper delivered, while others mailed it back to The Sun or posted pictures on social media after setting it alight.