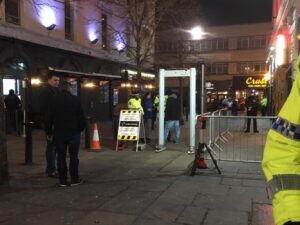 Metal detectors appeared outside city centre bar locations at the weekend as Merseyside Police stepped up efforts to combat knife crime.
After Liverpool saw a string of serious and fatal incidents involving knives over the past 12 months, three airport-style security arches were set up around Concert Square on Friday night.
Following the tragic stabbing of 21-year-old Sam Cook in October, a petition calling for the placement of metal detectors gained 10,000 signatures.
As an interim measure, 100 city centre venues were given knife wands to increase levels of security by detecting potentially lethal weapons.
A spokesperson for Merseyside Police said: "Officers were out in force in Liverpool city centre with knife arches as part of a multi-agency operation to support the #NoMoreKnives campaign."
Police said the initiative is "supported by our partners including local authorities, health professionals, the Police and Crime Commissioner, St Helens Rugby Club and the families of knife crime victims Danny Fox and Sam Cook."
Twitter: Merseyside Police
The family of knife crime victim Sam Cook are supporting our #NoMoreKnives campaign because they don't want another family to go through what they are going through. Listen to their story here – pic.twitter.com/8keYaVLHsD

— Merseyside Police (@MerseyPolice) March 5, 2018
The detectors were set up outside Moloko in Ropewalks, Coyote Ugly on Bold Street and X in the City on Wood Street. A large group of Merseyside Police officers worked alongside the security staff at each venue to reassure the public about the reasons for the operation. Sam's parents, Alan Cook and Jill Radcliffe, also attended to support the initiative.
Chief Inspector Steve Brizell said: "We are realistic enough to know that as a police force we cannot tackle the problem of knife crime on our own, which is why it is important that everybody backs this campaign and takes a stand against violent crime."
Stewart Moore, licensing and compliance manager for the Baa Baa Group, said: "Having the knife arches in the city centre tells the public that Merseyside Police takes the issue very seriously and it gives us a great deal of comfort that the police are out there doing this.
"Hundreds of thousands of people visit Merseyside every year and we want them to feel that they are coming to a safe place and that they can enjoy their time here safely."
The latest move is the start of an ongoing police operation to tackle knife crime locally, with further developments expected in the #NoMoreKnives crackdown.
YouTube: Alex Amadeo