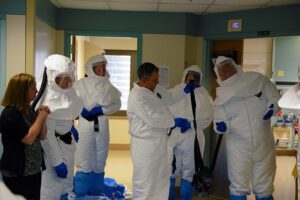 NHS workers in Merseyside are amongst the first members of staff to leave the UK for Sierra Leone to help fight against the deadly Ebola virus.
The group of more than 30 volunteers, including doctors, nurses, psychiatrists, clinicians and emergency medicine consultants, will receive a week's training in the capital Freetown before starting work at the British-built treatment centres.
The group of volunteers is the first set to work in Sierra Leone, helping people with the virus which has already killed more than 5,000 people.
Dr Hannah Ryan, 29, from the intensive care unit at Aintree University Hospital, who is embarking on the trip to West Africa told the Echo: "I am interested in infectious disease medicine, I have always wanted to do humanitarian work and I wanted to take on the challenge of working in this complex environment."
Dr. Mike Beadsworth, a consultant on Infectious Diseases, Tropical Medicine, and Clinical Pharmacology at The Royal Liverpool Hospital, told JMU Journalism: "All of the NHS staff that have volunteered to manage and look after Ebola patients in Kerry Town and throughout Sierra Leone have undergone comprehensive training in the usage of personal protection equipment, under the supervision of the military."
Jeremy Hunt, the Secretary of State for Health, said: "We have fantastic research on the spread of infectious diseases at a number of institutions in this country, including in Liverpool."
According to Dr Beadsworth, the risk of anyone returning to the UK with Ebola should be minimal with the screening processes put in place by the chief medical officer and the Ebola advisory panel.