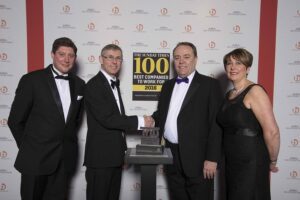 The top 100 companies to work for in the UK have been released, and only one is based in Merseyside.
The Sunday Times recently announced its winners of the annual list, and it was only Liverpool-based company Curtins who ranked in the top 100, placing 34th. Online insurance company Simply Business, which is based in London, topped the table.
Curtins is an engineering firm that specialises in building structures and is responsible for the £100 million redevelopment of the Liverpool John Moores University city campus on Copperas Hill.
Communications Manager at Curtins, Rhiannon Carss, told JMU Journalism: "We are absolutely delighted to have been recognised in the Sunday Times. We've always been committed to creating a company that has its employees at its heart as it's vital to the leadership of Curtins that our staff feel proud to work for this business."
Organisations of at least three years old and with a workforce of between 250-3000 were eligible to nominate themselves for the competition. A total of 925 companies put themselves forward in all categories of the report this year, with 34 big, 235 mid-size, 466 small and 190 not-for profit organisations registering to participate.
The winners were ranked on several different areas of the company, including holidays, maternity leave, pensions and charitable activities. The ratio between male and female employees was also measured.
According to Curtins, everyone involved with the business had an input in the application. Rhiannon said: "I would say the whole thing seems very fair. The criteria is strict and entirely based on factual, evidenced information.
"To us, this is a great way to celebrate what we've always done well, and that is keep our staff as our focus. As Curtins is a growing business, I'd like to think that being recognised in such a prestigious list will serve to increase our appeal."