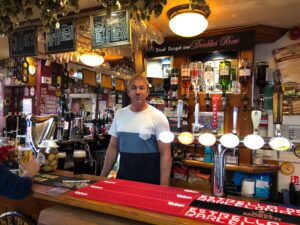 A bar that was boarded up five years ago has completed a remarkable transformation after winning the prestigious CAMRA (Campaign for Real Ale) Pub of the Year award.
The Cricketers Arms in St Helens looked set to have called 'time', but thanks to its selection of cask ales, it has claimed the title following its reopening four-and-a-half years ago.
Owners Andy and Denise Evans had their premises judged on atmosphere, decor, welcome, service, community focus and, most importantly, quality of beer. The pub, situated just outside of the town centre, offers 13 changing cask ales from both local breweries and nation-wide breweries.
Mr Evans told JMU Journalism: "Normally for the final, CAMRA pick a lot of rural pubs – Grade 2 listed buildings, or pubs with little thatched roofs, but this year, I think they wanted something different. They picked four urban pubs for the final, so that's when I thought, 'we have a really good chance here'."
The previous two years, the pub narrowly missed out on making it to the final round of the competition. However, they have won the CAMRA award for regional, Merseyside and St Helens pub of the year for the past three years running.
YouTube: Suzy Sankey
"We're absolutely overwhelmed," Andy said. "When we bought the pub, we set ourselves the goal to try and win the award. We only set that aim really to stop us from ever getting complacent and keep us on our toes- we never thought we would win it."
Before opening for business, neither Andy or Denise had worked in a pub, or even pulled a pint. The introduction from a friend to cask ales is what inspired them to take over and renovate the Cricketers.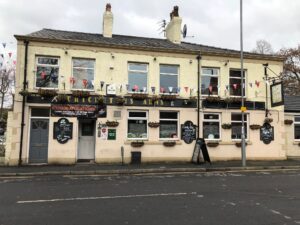 Andy said: "We've got good members of staff and I think that's what the key to us winning this year was. We've really invested in to them, so if we aren't here, they can step up and run the place. It's really benefited from them and I personally think that's the biggest reason behind our award."
He is confident that the triumph will in fact benefit the whole town, saying: "We've had visitors from every country in Europe. I'm pretty sure there's barely a country in the world that we haven't had to visit us.
"There's a great opportunity for the town of St Helens now in terms of tourism. Restaurants, shops and tourist attractions will all benefit, as well as other pubs."
Despite achieving their goal, the couple have plans to continue to improve The Cricketers Arms by building a micro brewery later this year.
"We're absolutely ecstatic, but this is where the hard work kicks in now," said Mr Evans.