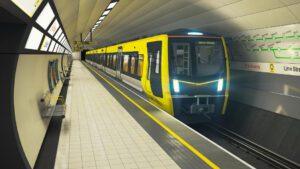 The long-running row between Merseyrail management and its workers who are taking industrial action shows no sign of a resolution, as the travel company has revealed new designs at the heart of the dispute.
Members of the Rail, Maritime, and Transport (RMT) Union are unhappy with the role of conductors being scrapped following the introduction of driver-only trains in 2020, resulting in redundancies.
Merseyrail insists that this £460 million modernisation of its current 40-year-old fleet is essential for public safety. The firm has released images of how they expect the new trains to look to show the public the improvements they intend to make.
The recently-appointed Managing Director of Merseyrail, Andy Heath, said: "The new trains will be safer, faster, more comfortable, convenient and better for the city region.
YouTube: Global Railway Review
"They will rely on the latest advances in safety and technology and passengers will benefit from a wide range of on-board features designed with their needs in mind and to enhance their travel experience."
Regular commuter, Kirstie Lambert, said: "Now that I have actually seen the design of the new trains it does make me a bit less angry about all of the strike drama.
"While it has been a pain these past few months, to know that people, including myself and my children will be safer on the trains does make it all seem a bit more worthwhile."
The dispute with the unions has so far resulted in 14 days of strikes, most recently on January 12th. No further industrial action is on the immediate horizon at present, but the row continues.