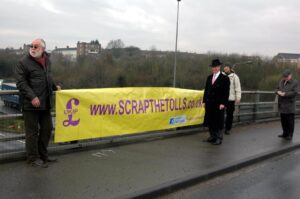 A protest was held this morning against the price rise in the Mersey tunnel tolls.
Members of the United Kingdom Independence Party (UKIP) staged the protest in Wallasey and then Birkenhead.
One of the organisers, Lynda Roughley, said the organisation was taken aback by the amount of support from the public. She told JMU Journalism: "We got an amazing response, at least 60% of the drivers this morning gave us a positive response, waving and beeping their horns.
"We were very well received and the protest went better than we expected."
Merseytravel is set to increase the tunnel toll from £1.50 to £1.60 in the next fortnight.
The campaign. 'Scrap the Tolls', was started in January by Paul Nuttall, the UKIP MEP for the North West.
Mr Nuttall said: "As far as the Mersey tunnels are concerned we already pay for these with our road taxes and council taxes. We were told they would be free after the capital cost was paid off but here we are still paying – and in two weeks time the price is increasing by an extra 10p each way, which is a 7% rise.
"This will hit small businesses particularly hard."
Mr Nuttall said a study by the Federation of Small Businesses has shown that usage would increase – to the benefit of the local economy – if tolls are removed.
"Pollution caused by the queueing traffic is also a major problem. Our aim is for the tunnels to be integrated into the national roadway and all tolls scrapped," he said.
UKIPs campaign to scrap tolls in the UK was originally launched at the Dartford Crossing back in 2005 by UKIP leader Nigel Farage MEP and London MEP Gerard Batten.