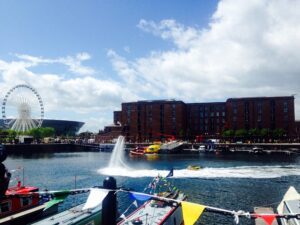 Several businesses have earned the lucrative naming rights to one of the city's most popular annual events, the 2017 Mersey River Festival.
A lottery-style draw involving dozens of local firms in the Mayoral 100 Club took place. The 100 Club is a business and networking scheme, that sees each of the organisations pay £3,000 to become a member. The funds are then re-invested into the development of the festival, which will be held in June.
Retail and leisure giant, Liverpool One, claimed top prize and secured the overall naming rights.
Chris Bliss, Estate Director at Liverpool One, said: "We are delighted to be named as this year's headline sponsor.
"The Mersey River Festival has established itself as a much loved annual occasion which celebrates Liverpool's cultural heritage. We are proud to be a part of this and look forward to showcasing everything which our vibrant city has to offer.
"Collaborating with partners across the city is something which is really important to us at Liverpool One and this partnership marks a further great opportunity for our magnificent city to confirm its place on both the national and international stage."
Heritage Great Britain, which owns and operates some of the UK's most popular visitor attractions, together with Liverpool's Mattel Play and last Christmas' DreamWorks Lights destinations, have been named as the official sponsors of the music zone.
Youtube: Culture Liverpool
Allan Leech, CEO of Heritage Great Britain PLC, said: "The Mersey River Festival is a fantastic event and we are thrilled to be supporting the musical element of the event and look forward to the line-up being revealed."
One of Merseyside's largest employers, Home Bargains, will become the sponsor for the Family Zone, with street theatre, face painting and craft workshops taking place across the summer event.
A number of successful events will return this year with the British Thunder Cat Racing Tour, the Northern Boat Show and the usual water-sports all making a welcome comeback.
Liverpool's Assistant Mayor and Cabinet Member for culture, tourism and events, Councillor Wendy Simon, said: "The Mersey River Festival is a much-loved part of our events calendar and draws in huge crowds each year.
"It's wonderful that we can work in partnership with Merseyside-based businesses to contribute and grow the event, and I'm delighted that once again, three more companies will have the kudos of being associated with this fantastic event.
"This year's festival coincides with Liverpool being the national focus for Armed Forces Day, so there will be a unique dynamic to 2017's River Festival as the city comes together to say thank you to all those servicemen and women who make up the armed forces community."