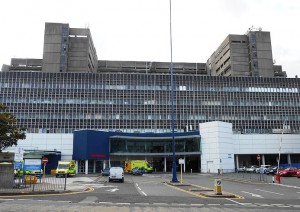 Liverpool hospitals are struggling to cope with the high demand of patients, a report has shown.
New figures have emerged revealing some of Merseyside's hospitals are nearly at breaking point as they approach 100% occupancy rates.
NHS figures have shown the city's Royal and Broadgreen Hospitals had just nine spare beds between them in the second half of January – an occupancy rate of 98.9%.
Meanwhile, Aintree Hospital had just eight spare beds over the same period of time (98.9%) and Southport and Ormskirk hospitals had only six (98.5%) between them.
NHS guidelines state that the occupancy rate should not exceed 85%.
Only the Liverpool Women's Hospital and the city's heart and chest hospital were below this threshold at 83% and 81.9% respectively.
Sharon Sullivan, the Labour councillor for Liverpool Central where the Royal is based, voiced her concern as it was revealed that only two Mersey trusts are meeting NHS target levels.
She told JMU Journalism: "This problem is due to austerity measures by the government of today. The adult social health and care budget has been cut dramatically with thousands of vulnerable people now ending up in hospital when they should be cared for at home."
A spokesman for the Royal Liverpool and Broadgreen hospitals told the Liverpool Echo: "We have seen an increase in emergency admissions, including an increase in patients who are seriously unwell.
"We have patients in our hospital that no longer need our care, but whom we cannot discharge safely."
Construction of the new Royal Liverpool Hospital began just over a year ago. The new facility will contain 646 beds across 23 wards, plus 18 operating theatres.
It will be 12 storeys high and is on course to open in the summer of 2017.