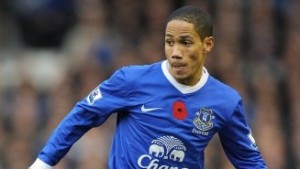 Liverpool and Everton have joined a host of other Premier League teams in their bid to raise money for the Royal British Legion, by auctioning off their match-worn jerseys from last weekend's Remembrance Day commemorations.
The Reds and Blues have joined rivals such as Manchester United, Manchester City and Chelsea in donating their jerseys for auction. The shirts, sporting a Poppy and a player's personal signature, are being sold in aid of the Royal British Legion and are already generating huge interest among fans of the Merseyside clubs on eBay.
Liverpool wore their kits in their 1-1 draw with Chelsea, in which Luis Suarez netted the important goal for Brendan Rodgers' side. Suarez's No. 7 shirt is currently the most wanted of the Reds, attracting over 25 bids already, with the price reaching almost £1,000. Skipper Steven Gerrard's has also attracted a bidding war, with 35 bids reaching up to a price of £850 so far.
To date, Chelsea captain John Terry's shirt is leading the way in the auction with the current bid at over £5,000 for the jersey in which he scored and was subsequently injured against Liverpool.
You can find the auction online at ebay here.