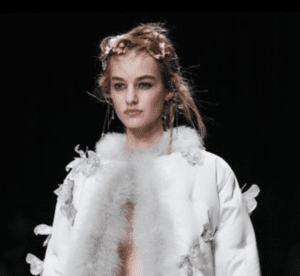 A fashion student who studied at Liverpool Community College made her debut at London Fashion Week (LFW) working for Alexander McQueen.
Louisa Newton, 21, from Southport, previously attended KGV College in her home town, and then went on to study her foundation year studying at LCC before beginning her degree in textiles embroidery at the renowned London College of Fashion.
She applied for an internship at the major fashion power house, Alexander McQueen, not thinking she would get it, so when she saw the fruits of her labour on the catwalk at the show, it was a dream come true. She couldn't believe it when she got the callback after her interview confirming she had got the internship.
She said: "It was hard work. I was up all night embroidering, I felt like my fingers were going to fall off by the end of it. Once I saw my work on the models walking the catwalk, I felt really proud of myself… it looked incredible.
"I have been lucky enough to work for one of my favourite designers, in the buzzing and intense environment of London Fashion Week.  It was the best experience and after a well deserved rest, I can't wait for the opportunity to contribute to the next project."
Some of her work included a stunning butterfly emblazoned jacket and sequinned embellished evening gowns in traditional McQueen style.
It was the first time in 15 years that Alexander McQueen chose London for their show, usually opting for Paris to launch its collections.