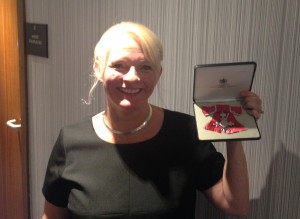 The chief executive of the Everton in the Community charity has received an MBE for her extraordinary work in the local area over the past four years.
Dr Denise Barrett-Baxendale celebrated receiving her award for services to the Merseyside community with club shareholders, staff and players past and present at an event in Goodison Park earlier this week.
More than fifty people turned out including the likes of club captain Phil Jagielka, former striker Graeme Sharp and club CEO Robert Elstone. Barrett-Baxendale collected her award from the Queen at Buckingham Palace last week.
The mother-of-two told JMU Journalism: "It was fantastic. I was absolutely thrilled, totally overwhelmed and I think it's important to note that it's not just about my work, it's the work of the team. I think I was just the privileged person who had the opportunity to go meet the Queen and collect the award from her.
"I think it would most definitely serve to punctuate my career in the most positive way. I hope it doesn't distract from anything and that we are just going to continue moving forward as a community department and achieve the best results we can.
"It was an extremely emotional day obviously going to the Palace, meeting the Queen and all that anticipation and build up. But it was also of significance to me again personally because my parents were married 50 years the day after, so it was a lovely time to receive it."
Barrett-Baxendale has helped the charity make major strides since being appointed its CEO in 2010, including securing £1m from the Big Lottery Fund to deliver a programme helping young offenders integrate back into society. The charity also gained approval to open the Everton Free School in 2012 making it the first charity affiliated with a Premier League club to open a free school.
Everton chairman Bill Kenwright hailed Barrett-Baxendale's presence at the club, saying: "From the moment Denise stepped into Goodison Park she has brought an energy, a vibrancy, and a work ethic that few have ever bettered."
He added: "I can think of few people who are more worthy of the acclaim that Denise is currently, and quite correctly, receiving. As I often say to fans, and shareholders meetings, she is our 'Little Miss Dynamite' – and we adore her."