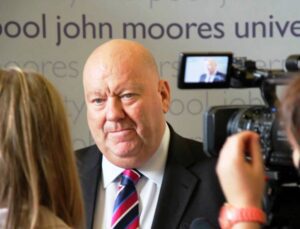 Liverpool Mayor Joe Anderson has urged the people of the city not to let their frustrations about budget cuts spill over into anti-social behaviour protests.
Speaking exclusively to JMU Journalism as he gave the LJMU Roscoe Lecture this week, Mayor Anderson said he is doing everything he can to stop Liverpool going bankrupt in the next few years, taking lawful measures to tackle the crippling cutbacks imposed upon the city by central government.
He said: "We are going to have to do things completely differently than we do now. There is a number of ways that we can do that and what we've got to do is make sure that we avoid that situation [bankruptcy] and we set what's called a legal budget.
"That means that we have to balance the finances of the city which means tough choices and tough decisions. We will get there it will mean that there will be a lot of things that we do that we have to stop and a lot of service reductions."
In 2015 Liverpool will lose £219 million from the council budget, plus £227 million from welfare and reforms, totalling in a loss of £446 million, but the Labour mayor is calling for public restraint.
He said: "I don't think it will lead to a rise in anti-social behaviour. But, as more and more people get more frustrated by the cuts then people may well start to take action in terms of civil disobedience and things like that. That remains to be seen… but my call to people and my advice to people is to not engage in anti-social behaviour or anything other than the way we demonstrate: by trying to be positive."
During the Roscoe Lecture, 'Mayors and their cities: the challenges and opportunities', one audience member at the Philharmonic expressed their frustration over the strain of the cuts, asking Anderson: "Who is actually paying for these massive cuts? I work in an advice agency and every single day we see the people who don't have enough money to feed their kids."
Mayor Anderson replied: "If we want to keep hold of services, if we want to spend money on facilities we have to generate the funding to do so. Nobody is going to come over the hill on a white charger and rescue Liverpool or any other city."
In the past three years Liverpool has lost £176 million, with cuts to multiple services and the closure or cessation of libraries, park maintenance, regeneration schemes and events.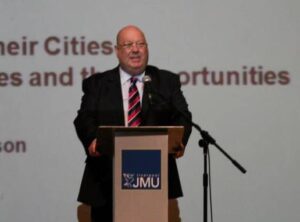 "We can either manage or just allow the city to go bankrupt. The bottom line is I'm doing what's best for Liverpool," Anderson added.
Speaking to JMU Journalism after his speech, he said: "It's important that people have the right to question me really about my experiences as being mayor over the last 18 months but it's just as important for them to ask questions and to hold me to account and to hear my views."
Anderson admitted: "We've lost 1,600 jobs and things aren't able to be done in the way there were before, not just because of jobs, but because we have had to reduce the services that we provide to the people in the city.
"The city isn't as clean as we would like it, we have got to now introduce fortnightly bin collections and a lot of things like reduction in the number of libraries that we have and they are tough decisions that we are going to have to make."
Additional reporting by Aimee Morris & Jack Maguire