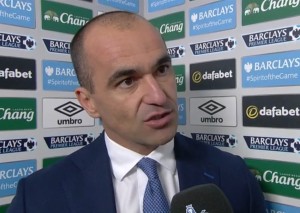 Everton manager Roberto Martinez has been relieved of his duties "with immediate effect" after just under three years in charge at the club, following growing unrest among fans over recent form.
The Spaniard's departure was confirmed by Everton FC as the Toffees are about to finish in the bottom half of the Premier League in consecutive seasons for the first time in 14 years.
Two campaigns of dismal performances and sub-par results were encapsulated by a humiliating 4-0 derby demolition to Liverpool and a final-minute defeat in the FA Cup semi-final to Manchester United at Wembley, in what Martinez described as Everton's 'defining week' of the season.
EFC statement
"The Chairman and the Board of Directors would like to place on record their thanks for the dedication and commitment Roberto has shown during his three seasons with the Club. Roberto has been a great ambassador, conducting himself, at all times, with the utmost integrity and dignity."
Yet, he remained in charge. It would take two more abject displays and three goals each conceded against Champions, Leicester City, and relegation survivors, Sunderland, before the club decided to act.
The Premier League run-in led to a number of organised protests by Everton supporters, including a 'time to go Roberto' message towed by a plane and a stay-behind demonstration after April's 2-1 win over Bournemouth.
Despite the setbacks, the 42-year-old insisted he was the right man to take Everton forward, but it seemed the fans, and finally the board, had run out of patience. His departure forced the club to postpone their end of season awards, which were due to be held at St George's Hall tonight.
Martinez was appointed as Blues boss in the summer of 2013 after winning the FA Cup with former club, Wigan Athletic.
In his first season, the new manager captured the hearts of Evertonians, orchestrating a young, attacking team full of flair and promise. He attracted signings such as Romelu Lukaku and Gerard Deulofeu to the club, initially on loan, and also afforded Ross Barkley and John Stones the opportunities to develop into full internationals.
Finishing in fifth place with a record Premier League points haul, the Catalan was awarded a bumper new five-year-contract in 2014 and lauded by the Goodison faithful. Fans chimed with chants that boasted of a School of Science reopening.
https://www.youtube.com/watch?v=bGdrxdIlVtk
That summer, Lukaku was signed permanently for a club record £28m, while Barkley and Stones signed new long-term deals. The Toffees were making statements of intent.
But that determination did not materialise. Home fans were often bored of Everton's slow tempo and lack of creativity.
By and large, Evertonians were prepared to give Martinez, a manager who has only finished in the top half of the Premier League once in seven seasons, another chance to right the wrongs of his second campaign.
Unfortunately, and despite two domestic cup semi-final appearances, he could not. The defence remained leaky, the players did not appear capable of lasting 90 minutes and the manager continually refused to accept the club was underachieving.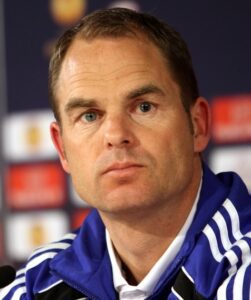 Conceding last minute goals also became a regular occurrence in his final season, and it was no surprise to anyone when Anthony Martial scored in stoppage time to end Everton's FA Cup hopes in Martinez' last meaningful game.
Now they will look to a new man to take them forward, and with Farhad Moshiri's investment confirmed, expectations are larger than ever.
Dutchman Frank de Boer is the bookies' outright favourite after leaving Ajax and hinting that he would love to manage Everton. Former Toffees boss, David Moyes, is also among the front runners, along with Manuel Pellegrini and Mark Hughes.
Whoever it turns out to be must provide the success that Everton fans crave.
In the dawn of his Everton tenure, Martinez spoke regularly of the Blues' illustrious history and an intent to return to those days. In his first press conference, it was revealed he promised chairman Bill Kenwright Champions League football with the club.
Two years on, it felt a world away. His words began to carry no weight and the fanbase lost faith.
His spell in charge has not been a complete failure. He lured some of Europe's finest young talents to Goodison Park and he was also responsible for bringing the late Howard Kendall back into the fold.
Ultimately, Roberto Martinez is destined to be remembered at Everton as a man who promised so much and delivered so little.
https://www.youtube.com/watch?v=PLk7Q6lAF4I