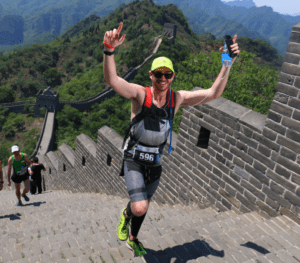 A runner is embarking on a series of fund-raising marathons across the world in a bid to help a local children's hospice.
After a year of raising money for various charities, McKenzie Madison, who works at Liverpool's Shop Direct, is now aiming to raise £10,000 for Wirral-based Claire's House.
The 25-year-old, began his challenge after he lost his nephew in October 2015, who was born with half a heart and died when he was less than two months' old.
Mr Madison told JMU Journalism: "After what happened to my nephew I thought life was just passing me by and I was always waiting around to do stuff. It made me realise that life is a bit too short.
"It's about grabbing life, living it and seeing new places – material things mean nothing to me. It's not just about the money it's about raising the awareness of the charity."
Last year, McKenzie completed The Great Wall Marathon in China for Alder Hey Children's Hospital, and the Petra Desert Marathon. He has just returned from running the Hong Kong Marathon and is undertaking the Jerusalem Marathon in Israel in two weeks' time.
He added: "I always doubt myself and I think on the start line I'm never going to complete it and not going to do it – I'm my own worst critic and then when I get there and I'm just running, I zone out."
YouTube: Claire House
https://www.youtube.com/watch?v=enjWsG82WKY
McKenzie, who is originally from Manchester, said: "I spend a considerable amount of money self-funding and doing the overtime to try and fund the challenges."
His employer, Shop Direct, has a charity partnership with Claire's House and this year the firm is raising £400,000 for the hospice.
He added: "I was sat at an awards meal and heard a bit about somebody that works at Claire's House and the story behind Claire's House. I thought 'hang on a minute here's another opportunity to raise money for a great cause'. So when I booked one challenge one led to the next – I've got seven booked this year so far."
Claire's House running and challenge fundraiser, Sophie Chilvers, told JMU Journalism: "We're just so grateful that he's taking on so many challenges all over the world, it's amazing and I know how much hard work he has put in to all his training and preparation and planning as well.
"His fundraising means we're going to be able to support local families with children with terminal and serious illnesses and help keep those families smiling through the difficult times that they go through."
McKenzie's fundraising page can be found online here.