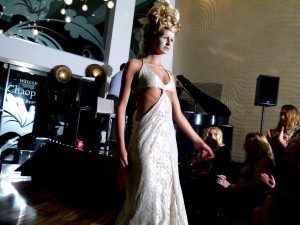 Stylists from across the North West descended on the city with their curling wands and hairdryers at the ready to compete for a top hairdressing award.
Liverpool stylist Lo Forster of Fabuluxe salon on Smithdown Road was left celebrating at the end of the evening as she won the top prize at the Liverpool Urban Hair Show, a competition to showcase local talent.
The contest, held at Palm Sugar Lounge in Liverpool One, showcased hairdressing creativity to its fullest as six stylists battled it out to impress Hooka salon owner, Dion Padan, along with Carl Russell and Amie Brown of Russell and Brown Vintage hair.
Amongst the styling showcase were live acts, including Liverpool-based Bollywood dancers RuShee and Norwegian acoustic singer, Jonas.
Clare Seddon, the founder of the organiser, KWATU Events, told JMU Journalism: "I was extremely impressed by the turn-out and the hairdressers went to extremes to showcase avant garde hairstyles and creativity. Seeing the show come together and the guests enjoying all of the performances made me feel certain that the show has been well received in Liverpool."
Tawny Wright of Electric Unicorn told JMU Journalism backstage: "I only decided to do the show on Monday, so I made the head pieces last minute. I arrived an hour later than everyone else and had no access to plugs and at one point was without a second model, so it was high pressure and I was sure I wouldn't finish in time.
"Thankfully, it all came together and we had a lot of fun."
Winning stylist Lo Forster told JMU Journalism: "I couldn't believe it – as soon as I heard my salon's name announced as the winner I was in shock. I am overwhelmed by all the compliments and good things the judges were saying to me. I felt like all my hard work had paid off."
Judge Dion Padan, who announced the winner, said: "I was amazed to see such creative work. What I loved about the winner's look was the way she had created two very different models but they both complemented each other so well.
"I hope this competition goes from strength to strength as it's a great opportunity for local hairdressers to get to showcase their work."