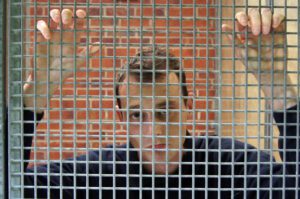 A Wirral man will be spending a week in dog kennels in order to raise money for the RSPCA Animal Centre in Wallasey.
Simon Weston works as an Animal Care Assistant at the centre on Cross Lane and came up with the idea to sleep in a kennel with the dogs, with no luxuries.
With the centre costing around £30,000 a month to run, and with less than half a year's funding left, Simon knew he had to do something drastic to raise as much money as possible.
This branch of the RSPCA is independent, so receives no funding from the government, relying purely on donations. A lot of the money is needed for heating, electricity, vets fees, medications, operations, neutering, and micro chipping.
He told JMU Journalism: "Roughly every dog we have costs £8 a day, it's quite a lot of money. Obviously with the money that it costs for us to re-home an animal, we never make any profit we are always at a massive loss."
Simon, from Bromborough, admits he loves absolutely everything about the dogs and their fantastic personalities. He is hoping that animal lovers will come along to see him in kennels with the dogs and show support.
He said: "People keep saying; what am I going to have in the kennel? Well I'm having nothing in the kennel, it's stripped down. I did this about eight years ago for 24 hours but I had a quilt and portable telly and stuff but this time it's just getting what the dogs get, a couple of blankets on the floor."
Mr. Weston doesn't know who he will be sharing with as it depends which dogs are living at the centre on the 25th November, when he starts his week long fundraising mission. However he knows it will be a Staffordshire bull terrier, as the kennels often see a lot of the breed needing re-homing.
He said: "Its like that with Staffies everywhere at the moment. They are fantastic dogs they really are unfortunately the publicity they get isn't great."
Simon, who has been working at the Wallasey RSPCA for 11 years, will be spending 24 hours a day, for seven days in the kennel, only being let out in the morning for ten minutes to have a quick wash, brush his teeth and go to the toilet.
He will also be let out later in the day for about half an hour to walk the dogs he is in the kennel with before coming out of his kennel at the Christmas fair on Sunday 2nd December.
Those who want to donate to the Wallasey RSPCA you can visit their website: https://rspcawirral.piczo.com